by Sara Steffen October 8, 2020 Germany Bavaria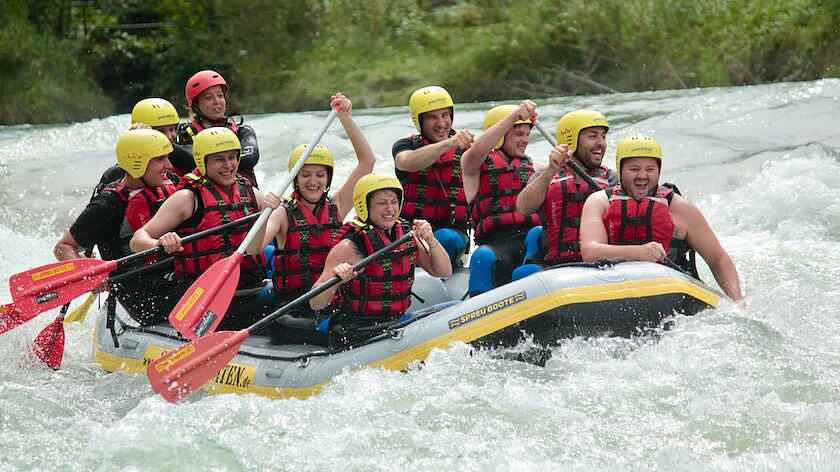 Many only know Munich from the Oktoberfest and the BMW World, but Munich is much more than that. Munich is quaint, traditional, lovable and a treat for the soul.
There are so many activities and sights to experience in the Bavarian capital that a single vacation in Munich is actually not enough.
Here you get 11 wonderful activities and sights that you can experience on your vacation in Munich.
Broeding
An evening to enjoy, be amazed and experience. Photo: Restaurant Broeding.
At Broeding, one of Munich's top addresses, you will always find clarity and precision in the restaurant, on the plate and in the glass.
A 6-course menu that changes daily is cooked in the restaurant so that you always get a new and inspiring experience.
The wine menu consists of special, authentic and original wines that perfectly match the character of the kitchen.
The passionate team cooks the art of the simple, the courage for creative things, with a sense for the essentials and thus always brings culinary dreams to life.
In addition, the Broeding team is always at eye level with you as a guest and you will not find any rigid rules. The team always has an open ear. And no music.
You cannot miss this gastronomic experience!
Karusa


The shop for handmade, regional and special items. Photo: Karusa.
The Karusa is your "shop for handmade, regional and special items" in Munich.
Here a good 70% of the range consists of handmade products from people in the vicinity. Some of them are even unique.
In the Karusa there are also various products from small as well as larger Munich manufacturers, such as ginger syrup from Inge and coffee from Fausto – both are in the immediate vicinity – as well as other beautiful gift ideas that are not always handmade, but still special.
Feel free to visit the shop at Humboldtstrasse 6 in Munich-Untergiesing.
Pedalhelden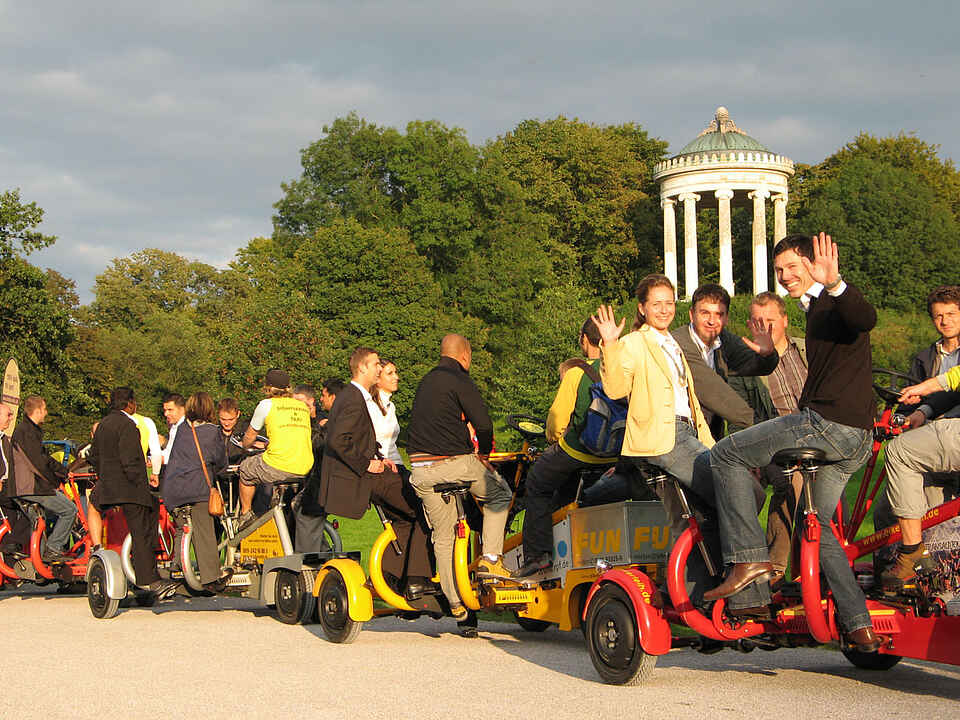 A bike ride starts with pedal heroes. Photo: Pedalhelden.
"Life is too short for boring bikes". This is the company motto of the pedal heroes. With Pedalhelden you can experience the Radlhaupstadt Munich in an environmentally friendly way.
The Pedalhelden rental station is located at Marsstrasse 11, not far from Munich Central Station. You are sure to find a bike that suits your needs here.
If you would like a bike tour, the guide drives to many interesting sights under the bike rides, which you can discuss with him at the start of the tour, e.g. Marienplatz (old and new town hall, carillon), Viktualienmarkt (maypole) or Olympiapark.
As the picture shows, you can also rent the fun ConferenceBikes. With this bike, communication between the community and team spirit are easy going. The journey is the goal and fun is guaranteed!
You can find more information here: www.facebook.com/pedalhelden.
Sport Pirates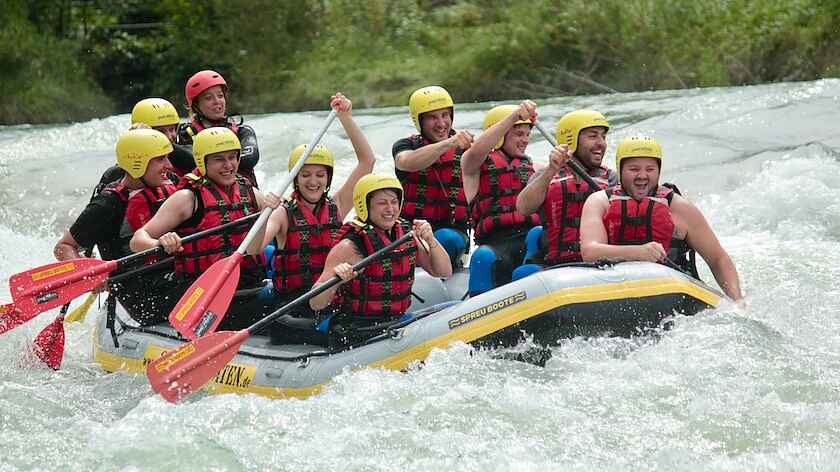 Rafting on the Isar. Photo: Sport-Piraten.
Would you also like to be active and enjoy the fresh air? Then you have to try one of the cool sports pirate activities.
Adrenaline, action and adventure – Sport-Piraten GmbH from Munich offers all of this.
Here you can experience various outdoor and indoor sports courses, excursions and tours.
Among other things, you have the choice between various boat tours.
Rafting on the Isar is full of action. The tours with the rubber dinghy, motor boat or inflatable canoe are a bit quieter.
You can enjoy the landscape and the view of the Alpine foothills and cool off in the water of the Isar.
In winter, the Sport Pirates offer ski courses, snowboard courses and cross-country skiing courses.
The meeting point and a detailed description of the various activities can be found on the Sports Pirates website.
Mein Platzl – handmade in the Alps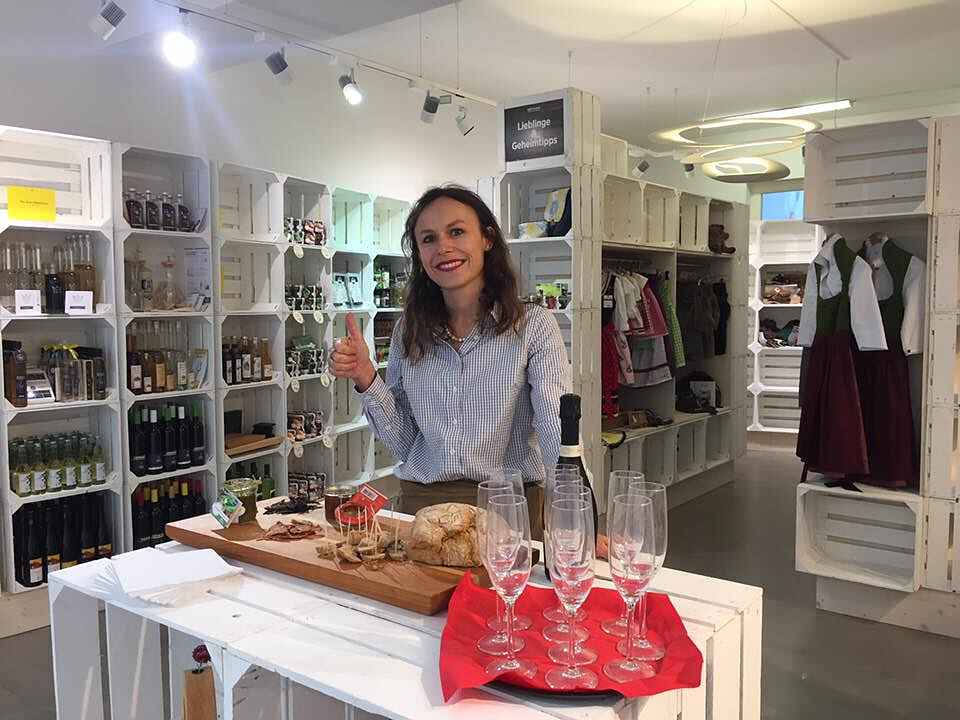 Regional and delicious products from the alpine country. Photo: Mein Platzl.
Mein Platzl is a shop that wants to tell a story.
In short, it is about fascinating people from the Alpine country who produce beautiful, regional, sustainable, handmade products. Therefore, the idea of the store is that regional producers deserve that they benefit better from their handmade work and thereby find more customers.
The various partners are from Bavaria and Austria and rent fruit boxes for a certain period of time so that they can be found in Munich. Hence the name "Mein Platzl".
In the shop you will find products from the areas of food & drink, health & relaxation, children & family, living & decoration as well as alpine country & tradition.
Visit the store at Westenriederstraße 12, 80331 Munich and experience the many regional and delicious products from the Alpine region.
Tobs Beauty Store

Munich's number 1 for natural cosmetics. Photo: Tobs Beauty Store.
The organic beauty store, Tobs Beauty Store, is located in the beautiful Munich district of Haidhausen on Wiener Platz.
Here you can discover the variety of high-quality natural cosmetics.
A hand-picked selection of certified organic care products for skin and hair and brands such as Amala, The Organic Pharmacy, VOYA, TWELVE Beauty and many more can be found in the store.
In addition to the many beautiful products, Tobs Beauty Store also offers spa treatments where you can enjoy pampering beauty care.
The competent team always takes time for you, regardless of whether you need individual care recommendations for your skin or hair type, a personal gift or beauty or green glamor tips.
The store attaches great importance to effective products with particularly high-quality natural ingredients, as well as brands that stand for a modern lifestyle.
They visit tobs and test the care because every skin is different. Then you can also receive free samples from our natural cosmetics experts.
Bräustüberl der Forschungsbrauerei München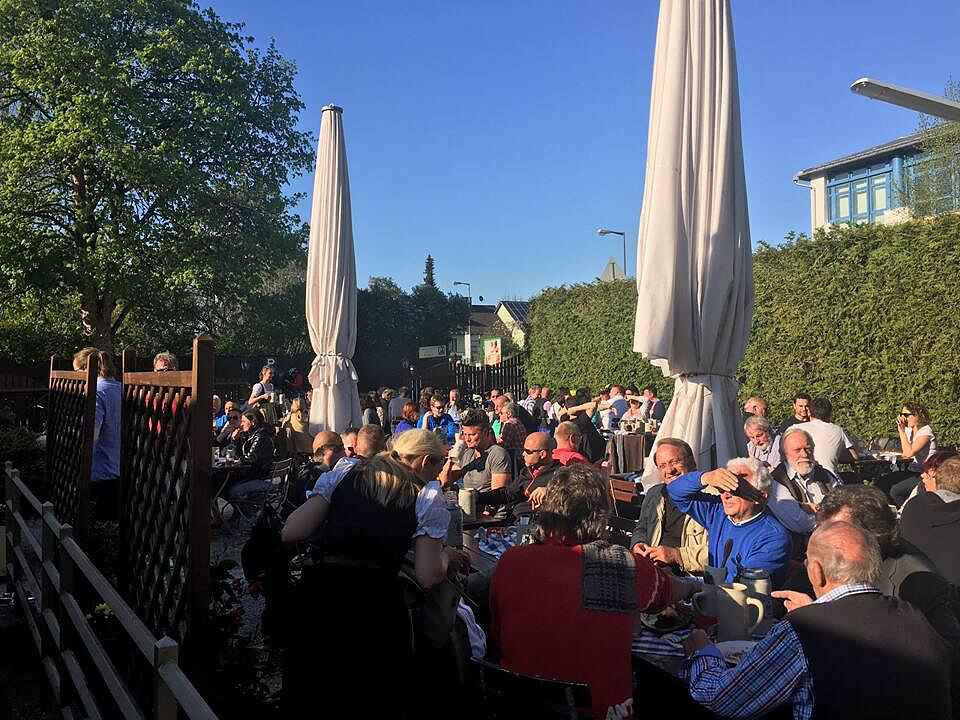 Enjoy the nice weather in the beer garden. Photo: Bräustüberl of the Munich Research Brewery. Enjoy a hearty beer or a non-alcoholic drink with your family along with something delicious to eat in the beautiful rooms of the research brewery.
The research brewery is located in the south-east of Munich and was opened in 1930 with the aim of developing new brewing processes and types of beer.
Today there are five different beer specialties for which quality is an obligation. It can happen that not all beers are always available.
To the side of the beer garden there is also a children's playground for the youngest, so that fun for the whole family is guaranteed.
The brewery can be easily reached by public transport such as the S-Bahn or bus. There are many parking spaces available for cyclists and motorists.
Kiddi-Car

Just come by, get in and drive! Photo: Kiddi-Car.
Kiddi-Car is an obvious family outing when you are near Munich.
Kiddi-Car is the action-packed children's traffic school for children from 6 to 12 years old, which combines the fascination of quad driving with traffic training for more safety in everyday traffic.
In Fürstenfeldbruck near Munich you will find the outdoor course, where you can enjoy wonderful hours with your children during this unique activity.
Here your children get the opportunity not only to practice basic theoretical knowledge about traffic, but also to practice driving quad bikes and in small motorized cars.
Kiddi-Car is a special and unique activity because children get to know the driver's view on children's quads and can thus better assess the dangers in real traffic.
Up to 17 children's quads are available for your children – what are you waiting for? Riding a quad for children means pure adventure!
Lavin´s Cafe

Do you fancy a delicious breakfast? Photo: LAVIN's Cafe
In the heart of Schwabing is LAVIN's Café, which creates an international atmosphere with an oriental touch.
Here, the Turkish mocha is just as important as a cappuccino and the fine tarts taste just as good as the homemade lavash bread made from mom's recipe.
The Turkish / German owner, Özlem, got the idea that she would like to merge her two worlds through this café.
When you visit the café, you are sure to be greeted personally with a smile and a nice word.
Together with her team, Özlem creates new, imaginative dishes and drinks for you.
This wonderful service and fantastic hospitality always make a visit to LAVIN's a special experience.
Style Advisor Twins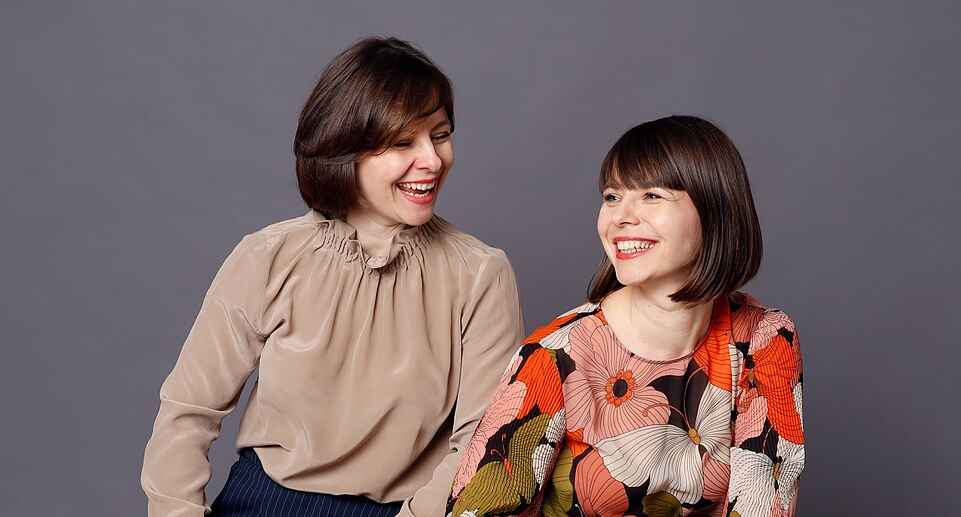 Personal shopping for you. Photo: Style Advisor Twins.
Munich is known as a shopping destination with many shopping streets. The variety of offers can quickly become overwhelming and degenerate into stress instead of relaxation. Especially if you are not just looking for a souvenir, but want to take the opportunity to update your wardrobe.
That's why there are Style Advisor Twins – a special personal shopping service for tourists.
Lena and Nina from Style Advisor Twins are professional stylists who are familiar with rapidly changing fashion trends and the selection of Munich's best department stores. Make the otherwise exhausting shopping experience!
Our customers value professional advice and style knowledge based on our experience since 2010.
Personal shopping takes place in private lounges in Munich's best department stores such as Hirmer, Oberpollinger or Ludwig Beck.
The meeting point will be discussed after a phone call, depending on your shopping preferences, clothing sizes and budget. For more information on the personal shopping experience, visit www.facebook.com/styleadvisortwins.
Paul Riedel – Stadtführer und Multimedialer Künstler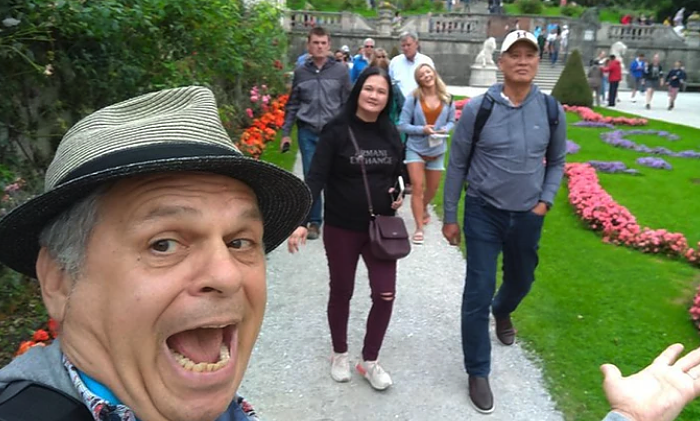 Private city tour with Paul Riedel. Photo: Paul Riedel
Paul Riedel is a German-Brazilian artist and author who has lived in Munich since 1984. Since 1988 he has led guided tours in museums and parks in Munich and other cities, such as Salzburg, Nuremberg and Füssen.
Today, for example, Paul offers exciting photo safaris, drawing tours or an afternoon watercolor lesson that you and your families can experience.
In the city tours you will learn interesting and worth knowing facts about history and art in an easily understandable form.
Paul assures you a fantastic and, last but not least, personal and fun experience for you and your whole family that you definitely shouldn't miss.
If you would like more information about this unique experience, you can take a look at the paul-riedel.de website and / or subscribe to the website's newsletter, which will give you information about the monthly appointments.