Hofbräuhaus Munich is the only one original. Many may copy it, but never reach it. When it is about Munich, one activity that immediately comes to my mind is visiting Hofbräuhaus.
It is the legendary brewery that has a lot to tell for itself as in my prior article about Augustiner.
My husband and I had the honor to visit it multiple times and I must admit that every single time was better than the previous one. We live just twenty minutes from this place.
Let me start with some history as it seems simply unfair to me not to mention it. Hofbraeuhaus is the most famous brewery in Germany, owned by the Bavarian State Government
When visiting Munich, don't miss to visit the Hofbräuhaus with a very rich background and history. Hof (or Court) comes from the brewery's past as a royal brewery in the Kingdom of Bavaria. It consists of two main parts, 'Hofbraehaus am Platzl', 'the Hofbraeukeller' and also possess one of the tents at the famous 'Oktoberfest'.
Let's start with some history about Hofbräuhaus Munich
Duke Wilhelm V from Bavaria founded the Hofbräuhaus. Exactly in 1589, this was first in a part of the buildings of the old residence in Munich.
This house was the brewery to the old Royal Residence, which was located at that time just around the corner from where the beer hall stands today.
Thanks to the first brewer Heimeran Pongratz, a beer became very popular with the speed of lightning. One interesting thing is also that 'Bavarian Beer Purity Law' from 1516 stated that only beers made from natural ingredients could be used in the brewing process.
Bavarian Duke Maximilian I built the Hofbräuhaus am Platzl as an extension of the 'Staatliches Hofraeuhaus' in Munich brewery.
King Ludwig I let admit the general public in 1828.
Max Littmann remodeled the building in 1897 when the brewery moved to the suburb areas.
The pains of world war II
The Bombs from World War II almost destroyed all of the rooms, except the historic beer hall. But, the reopening of the Festival Hall in 1958 marked the end of the post-war restoration work. Since they moved to the new building, as the previous one was burned, everything started to get better day by day. Many famous people were at least once at this beautiful house but one that surely points out is Adolf Hitler.
After World War II the brewery became Munich's number one tourist attraction fast, thanks to in part to legions of American soldiers stationed in Munich.
Because they were bringing home beer mugs with the 'HB' Hofbräuhaus logo, this attraction was able to spread fast across the whole world. So, demands for this beer in the entire world started almost immediately.
The first Hofbraeuhaus in Europe outside of Germany was opened in Italy in Genoa. On the other hand, one brewery outside of Europe was opened in Market Lane, Melbourne, Australia. For that was creditable Helmut Meyer in 1968. This facility continued to operate since these present days.
The better years after the war
Nowadays, there are many Hofbräuhaus breweries opened all over the world including ones in America. There is a chain of Hobraeu Beer Gardens in Miami and whole Florida, Panama City Beach, New York, Milwaukee, Wisconsin, etc.
I must admit that in all the years I visit this house, it never lost it's charms.
From many people even he was here so you can just imagine how important this facility is for all Germans.
The picture from Heinrich Hoffman is still nowadays a very good example of Fotografia's work up here. And based on that, we can all say that dark days are far behind now, but not forgotten and that a new generation can enjoy the atmosphere.
As I have mentioned already, I had many opportunities to visit Hofbräuhaus luckily. Most of the time I've been there with my dear partner and our dog Winston and every time we wanted to try some new food from the menu. In the past few years the catering changed a lot.
But one of the visits I think will always stay in our memories, on our tenth jubilee in 1989. As it had a rich menu at disposal, we had a chance to experience different kinds of food there. As I am a vegetarian I couldn't satisfy my receptors with sausages or other kinds of meat. So, I was enjoying pretzels mostly with a foaming beer while my husband had juicy chicken and a potato salad. That is something he likes so I am happy that he was satisfied with the quality of it.
Crowded and welcoming
We went early in November during off-season (after Oktoberfest but before Christmas markets). It was Mid Saturday afternoon and the place was really jammed up, it was nowhere free sits to find.
We were walking around about 10 minutes before finding an appropriate spot for 2 of us. The atmosphere was extraordinary. It was like at some football match or any famous sports event. Loud crowd, everybody speaking to each other (some were singing), echo all over the place. Simply I can say it was a perfect place to stay and spend some quality afternoon.
I felt like I don't want to stand up on the chair and leave the house and its adoring ambiance. However, if you want to have a romantic moment with your lover, forget this place. As music is loud as ever you will not feel very comfortable so I can suggest that this is definitely not the right place for romantic moments at Hofbräuhaus Munich.
This is a place where you can have fun, drink some fresh beer and have a nice meal
Vegetarians visiting Hofbräuhaus Munich
For a vegetarian like me, I thought it will not be the best solution to come here because of plenty of meat food that is on the menu. I have been concerned about coming here for a while all until my partner didn't convince me to come. Luck smiled at me and eventually he was right. I have always felt like I was in my own kitchen where I can eat whatever I like.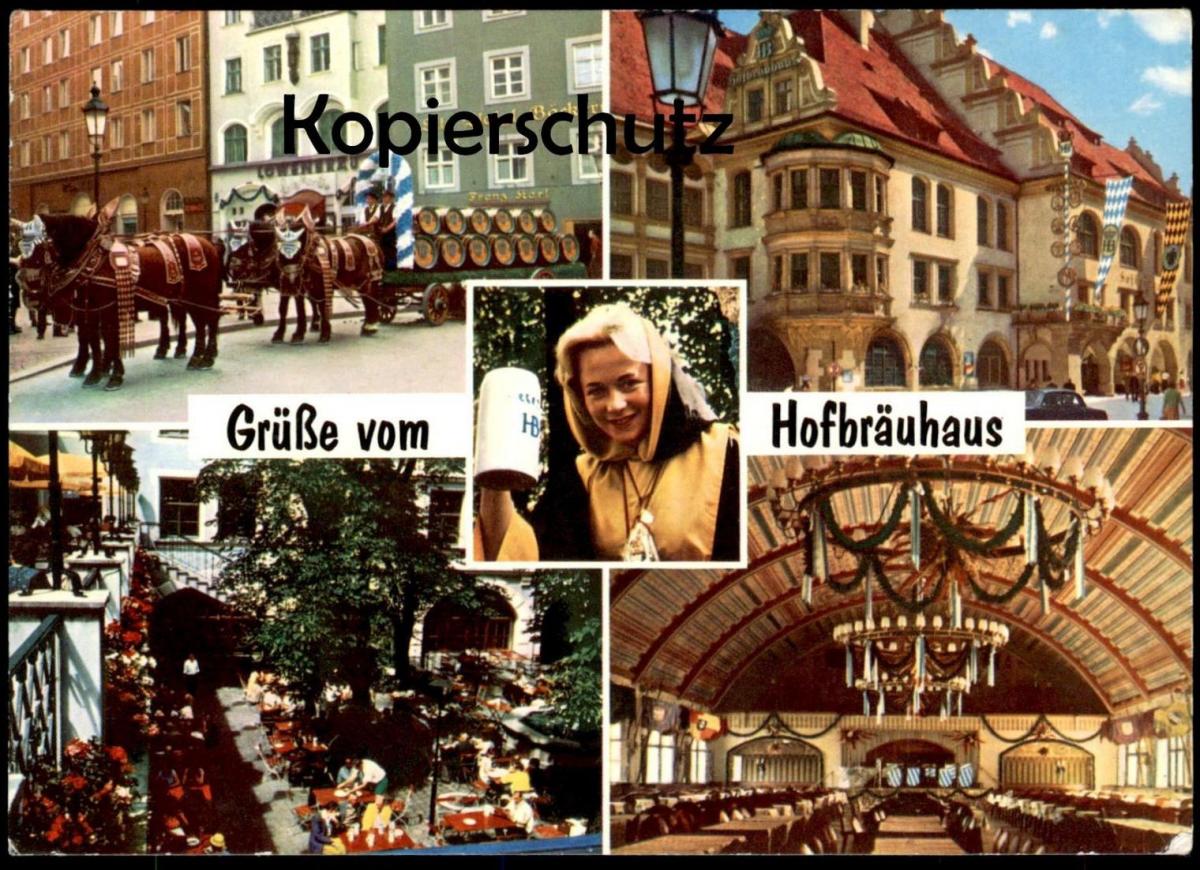 Once, one of my friends Peter came here to make sure on its own how it is like and how a nonvegetarian food tasted. As he said to me, his favorite beverage is not a beer but not to try it here would be a big sin. When it comes to food, knuckle and sausage he tried were a little bit unsalted for his taste but he was delighted with the quality of the service, so as we always were. The service is really hardworking and is trying all they can to satisfy everyone's requirements as soon as possible. Because of many sits that are available here, we had to be a little patient about our orders and wait for a while but that didn't bother us at all.
The waiters were always polite and in a good mood although they had a crowd of people to serve often. The only thing that I might be complaining about is if you order your food close before ending you will not get it. It seems that the service has no patience to wait for you after their work time expires.
Nevertheless, that is something that can be understandable considering the effort they use through their work time.
They are all humans after all so a little caring is not anything bad. The last but not least thing I liked was the music out there.
Music is everywhere
Every time a different band played great songs that my husband and I enjoyed in. Winston argued a little with the sound.
Often it was some local, unknown band in search of their place under the stars but the atmosphere was not quite at all. So, the feeling was always on the highest possible level.
All in all, I have experienced unforgettable moments here in Hofbräuhaus Munich. This amazing facility has something special to offer indeed.
Since I'm here often with guests, you can read many updates about quality, menu, and service.
In whichever time you come here you will surely feel an astonishing ambiance and somehow warm welcomed.
Since I made the first step into this house, I have never regretted it coming here alone or with guests. Once, it came to my mind to make my first footprint in house and keep it in my social home forever.
Something like Neil Armstrong's first step on the moon. That's how I feel about this place deep in my heart.
Hofbräuhaus Munich am Platzl is a place to meet friends
I have suggested to all of my friends to come here and you should do this too. My husband's words are also just the best possible for this magnificent house. If you like architecture, visit my travel illustration and let's enjoy this building.
He is the most fascinated with the ambiance that Hofbräuhaus am Platzl provides. Always laughter, good emotions, and positive vibes are in the air. That's what he liked and I am glad for him of course. Because our happiness is mutual, I cannot be more satisfied with the experience I had than this.
Therefore, I hope that every tourist who comes to visit this place will have something to remember like we always did. Of course, I wish that to the all locals here and Germans overall. Eventually, the worst you can get is fresh beer and favorite meal on a plate, with nice live music around. I think that is not something to complain about!
In my beer tasting tours I show you the Hofbräuhaus, but I rarely go inside. Too loud and touristic.